Last week, after a client meeting complete with tea and cupcakes, I got in my car and sat a while. With eyes shut and heart full, I thanked God for this dream I call a job. Because although the taste of raspberry velvet still lingered on my lips, it wasn't the cupcake that had me smitten. (Okay, just a little bit..) It was the hour and a half spent laughing and telling stories, when 30 minutes might've sufficed for brass tacks. It was arriving to friendly clients, and leaving with clients who are friends. And it was helping a bride and groom realize how a "first look" could solve all their wedding day timeline woes.
When I sat down with M & J last week, they told me their ceremony start time would be approximately 8PM. (And because the sunset calendar is every photographer's best friend, we know that sunset time for their particular date will be 5:32PM exactly.) That's when I said the F-word. "First. Look." Had you going there for a second, didn't I? ;) You see, while the bride wanted nothing more than to see her man prior to their ceremony, the groom was adamant that he did NOT want to see M until she was walking down that aisle. FYI, J is a total and traditional romantic, and we love him for it. But when M asked me to "explain to him why it'll work," I gladly obliged… And within three minutes flat, J was all, "I'm sold," with a pinky promise to seal the deal!
The answer is threefold: 1) If your ceremony begins even an hour before sunset, there will be little if no available light left to shoot in afterward. And naturally, having your ceremony start after sunset will mean the same thing. In instances like this, I really encourage clients to do a first look because I want you to come away with images like the ones you saw when first making your decision to book me. That is, all images shot in beautiful, natural, and available light. The downside of not doing a first look in this case would be bride/groom portraits, bridal party portraits, and family formal portraits that all have a completely different aesthetic than what you'd expect from my work as a natural light photographer. That's not to say creating nice images in these circumstances isn't doable. But again, the whole aesthetic you'd once preferred would be missing.
2) Your wedding day will, without a doubt, fly by. I'm sure you've heard it a million times before, from each and every married person on the planet, but it's true! While one of the most important days in your life, it is often one that is hard to remember simply because of the pace of it all. Having a first look will ensure that you and your bride/groom have one-on-one, face-to-face TIME with each other on your wedding day. Yes, you will be with each other throughout the entire day. But the intimacy and beauty of that moment when you're alone (with your photographers shooting away from a distance) is something that none of my clients have ever regretted. My husband and I also did a first look before our wedding ceremony. And we know it was the best decision we could have made!
3) Seeing each other before the ceremony will by no means take away from the gravity of the moment when those doors finally open, the music crescendos, and you lock eyes at the end of the aisle, with everyone you love most serving as witnesses. The two are both completely different experiences. The first is intimate and private and special in its own unique way. Whereas the second is dramatic and intense and "Oh my goodness, THERE s/he is! And here I am. And in five minutes, s/he will be my all mine. Forever!" POWERFUL. I've never met a groom that felt his reaction at the end of the aisle was muted by the fact that he and his bride had done a first look prior. If anything, it just adds to the craziness of it all. The awesome and sudden realization that THIS is it. The same goes for brides out there. Trust me, if your man cries during your first look.. You better bring a whole BOX of tissues to the ceremony!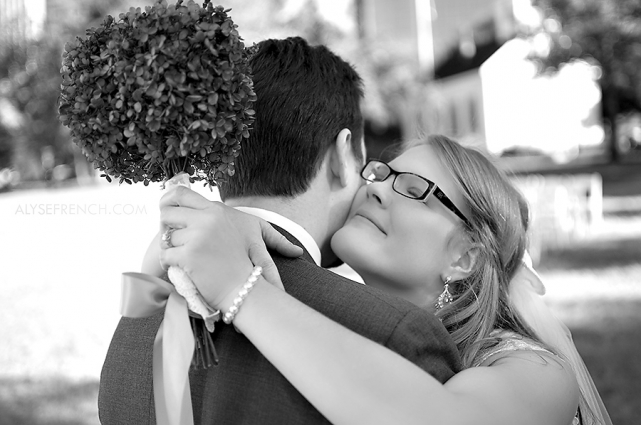 This post is WAY too long. But I hope it encourages you brides and grooms that breaking tradition can actually be a great thing!! Happy weekend!