They first met while studying at Syracuse University, and first fell in love while living in NYC. Josh and Jenn. My husband's brother, and now sister-in-law. (And now for a short pause to soak it all in and smile as per the "sister-in-law" part…) :) Jenn has been a part of my Morrissey experience from day one, having started dating Josh just a few months before Dylan and I began dating. Both secretly and not-so-secretly, we all wanted Jenn to be the one.. I, of course, was partial to the fact that she was also a Newhouse grad. But really, we all love Jenn for her genuineness. For her kindness. For her heart. And for the way she is so obviously and beautifully Josh's perfect match… In style. In musical taste. In a love for God. And in so much more…
Documenting Josh and Jenn's wedding while being as closely tied to it as I was reminded me of SO much. It reminded me of how much I love my husband. Of how much I love the Morrissey/Spaeth family. Of how much I love stringing a bunch of small sentences together in order to make a point. ;) And of how grateful I am to be able to tell stories with my images. Because this day? Was one for the books. Here is Jenn and Josh's story… XOXO!!
Prior to the wedding, Jenn had told me about the 1950′s Studebaker that would be driving them from the ceremony to the reception. But I had no idea it would be THIS beautiful and conducive to some pretty sweet detail shots!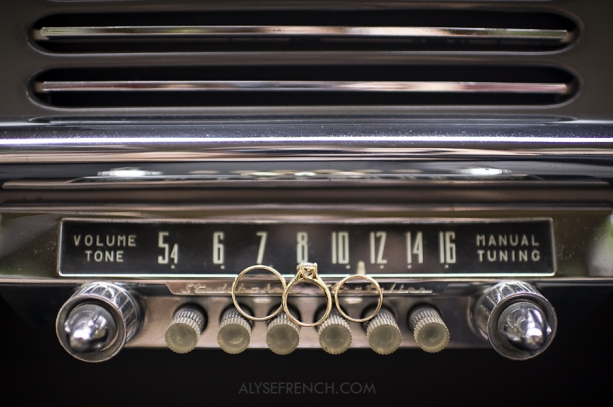 Lynn from
Tropic-Ardens, Inc.
created one of the most amazing bouquets I've ever seen. I mean, ranunculus? It's the way to my heart.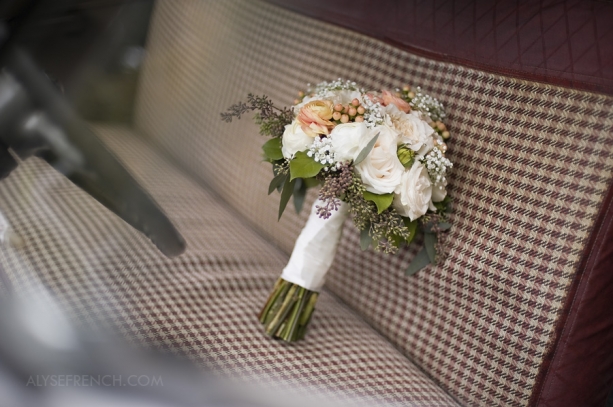 Jenn's 
KORS by Michael Kors
shoes. PER-FECT.
Ah! And a ginormous shout-out of love and gratitude to my beautiful friend and second-shooter for this wedding, PA-native, miss
Amber Jacoby
. Many of the shots you see here are hers. And she banged it out! :)
Dewed vines hairpin
by
BHLDN
 and dress by 
Ulla-Maija Couture
. Loooved it all.
My favorite part about the shot above and below is how the colors of the
Coco Chanel
and table almost perfectly match Josh and Jenn's wedding colors.
Meet Libby. She's one of a handful of cats owned by Jenn's sweet, cat-loving family. And she certainly caught me by surprise as I came in from shooting details…
I love how Jenn's childhood bedroom tells such a story. And the way the light danced around the walls in all sorts of different hues makes me totally giddy about this image.
Isn't she insanely beautiful? Jenn. You could get married in a white v-neck and black jeans, and we'd all stand there with our jaws on the floor..
Many thanks to Jennifer Monroe of
Shear Perfection
for the perfection seen here.
Makeup time meant working alongside one of the most kind and skilled ladies in the biz, Jaclyn Accetta, of
Metamorphosis New York
.
This might just be one of my favorite prep-shots of all time. :)
Oh, and can I just say that Jenn has amazing taste in friends? Because this bridal party was the BEST.
Getting dressed is when it all starts to feel SO real!!
Older sister, maid of honor, and wildly talented
graphic designer
Jill, who coincidentally designed all of the print materials seen throughout the day, also happens to be drop-dead-gorgeous while buttoning up dresses. Dang, girl. ;)
Okay, story time! A few weeks after getting
engaged
, Josh let Dylan and I in on a little secret.. He had hired a photographer to capture the moment he popped the question to Jenn at the
Brooklyn Botanical Gardens
in NY. And she DIDN'T know it yet!! Josh waited ten whole months to give Jenn the framed photo below. On their wedding day!
And then it was bridal party portrait time.
But first, we HAD to get a few of Jenn with the car.
Pure elegance. Gaaah…
And then the girls joined her!
Another one of Amber's and I luuurve it.
After heading over to the church, we shot around with the guys for a bit. Dylan on the left. Josh on the right.
Looking SHARP, men.
Groomsmen of the Corn
…
I'm a little bit proud of the image below. :)
Ceremony time! But first, a few details…
One of Josh and Jenn's friends came up to me right before the ceremony so I could give him settings for a proper exposure using the camera below. Isn't it a beauty?! On the right you'll also see three of Dylan's younger siblings. Nina, Pete, and Noel. :)
Josh seeing Jenn for the first time that day. I'm pretty sure his smile says it all.
Amber's angle.
And my angle.
Church of the Assumption B.V.M.
 has the most GORGEOUS architecture.
The kiss!! :)
And here's a taste of what's to come for the
second
half of the Spaeth-Morrissey wedding tomorrow. Hold on tight. We're only half-way through.
Happy Wednesday!! Now go leave 'em some love!